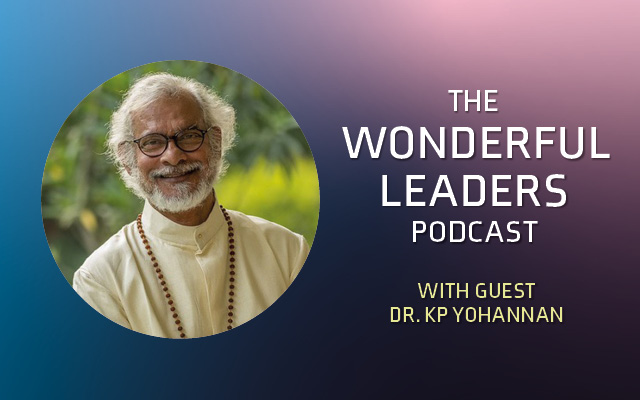 Guest Interview With DR. KP Yohannan, Founder Gospel For Asia
S1, Ep. 16
In This Episode Of The Wonderful Leaders Podcast:
Dr. KP Yohannan, Founder of Gospel For Asia, shares about his life in leadership, challenging us on what true biblical discipleship looks like, reaching those in need, his many books, radio programmes, and the importance of humility in leadership.
About Our Guest:
Dr. KP Yohannan has been crisscrossing the globe for the past 40 years, challenging the Body of Christ to discipleship. His call to a radical lifestyle—with an all-out commitment to Jesus—has left its impact on nearly every continent. Yohannan is the founder of GFA World, a Christian mission organisation deeply committed to seeing communities transformed through the love of Christ demonstrated in word and deed. He is also the Metropolitan Bishop of  Believers Eastern Church, an indigenous church in South Asia.
In 1974, he came to the US, for theological training at Criswell College, marrying Gisela after his first term. As a theology student, Yohannan was ordained and began pastoring a local church in Dallas, where he served for four years. He and Gisela then began taking steps to start an organization to support national missionaries, which eventually became known as GFA World (U.K.) (founded on July 3, 1979). Today, GFA joins alongside thousands of national workers and supports them through prayer and assistance as they bring hope to the most needy in South Asia. GFA is engaged in dozens of projects, such as caring for poor children, slum dwellers and widows and orphans; providing clean water by funding wells; supporting medical missions; and meeting the needs of those in leprosy colonies. 
Global Fatherhood Initiative awarded him the Reggie White Fatherhood Award in 2016. In 2003, he was awarded Alumnus of the Year from Criswell College for his influence in the work of God. In recognition of his service, NRB presented Yohannan with its Individual Achievement in International Broadcasting award in 2003.
Dr. Yohannan's radio program, Spiritual Journey, reaches more than 1 billion people in 110 languages and his Road to Reality radio program airs weekly on more than 200 radio stations in the United States, Canada and Europe. He served on the executive committee of World by Radio from 2004–2012 and as a board member with the National Religious Broadcasters Association (NRB) from 2013–2015. 
Dr. Yohannan is a prolific writer with more than 200 books published in Asia and 11 in the United States. With more than 3.9 million copies in print, Yohannan's landmark book,  Revolution in World Missions, is an international bestseller that has literally changed the course of mission history in our generation.